I'm proud of Grasshopper Manufacturer. They are really branching out. Starting on obscure action titles, they are now moving onto obscure shootem-ups. Yes, the classic SHMUP genre has been reborn, will all of its bullet-helly goodness with Sine Mora. Teaming up with experienced team, Digital Reality, Sine Mora's goals are to bring a fresh twist of a genre that hasn't seen much light.
Sine Mora can be as simple or challenging as you want it to be, luckily. Side scrolling shootem-ups are notorious for being hard, Sine Mora allows the player to choose the punishment that they wish to be dished out. With a deeply satisfying arcade feel to it (complete with total game overs), Sine Mora keeps a sense of challenge and urgency that is very important to a game like this. It really nails it.
Visually, Sine Mora is one of the most polished looking XBLA games I've yet to play. Smooth textures and really fascinating boss enemies are pleasing to the eyes. One of the early bosses looks particularly cool. Everything has a great glossy feel to it.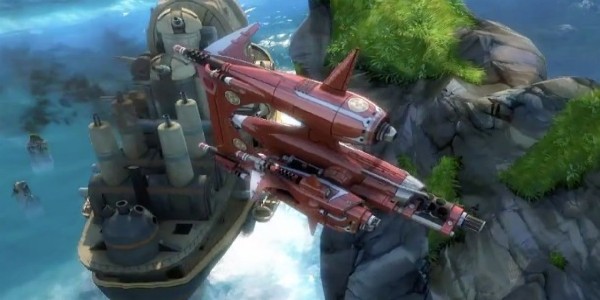 Sine Mora also changes up traditional rules. Instead of health, or one hit knock outs, it opts for a fairer, but still fun method of tracking the player's longevity. You start each of the games sections with a set amount of time on the clock. That time goes down naturally and when you take damage. When you destroy enemies and get combos, you gain more time on the clock. I really enjoyed this. It made for more dynamic gameplay than simply dying when you get hit, and you will get hit a lot.
Players can choose to play on the forgiving normal mode, or on the deadly Challenging mode, or in any of the games alternative extra modes. Sine Mora is a game you go into expecting a challenge, but one that is refreshing. The Arcade modes and Challenging modes are extremely difficult, and if you manage to die enough times and run out of "tokens", you lose all of your power ups and have to restart the chapter.
Where the combat shines most are the frequent, super intense boss battles. Many require careful study of patterns to beat on the game's hardest modes. On the easier modes they add interesting character to the otherwise drab side scrolling gameplay. From a cannon that gives you ample time to dodge its one hit KO move, or a giant robot that takes massive damage to take down, to an operation-like sequence with a giant robotic ring. I will remember the game for its boss battles more than any other factor.
The story however, is the weakest point. I never really understood what was going on. Everyone speaking in another language (I have yet to decide if its Russian or completely made up) was a nice touch, but it was distracting me from when the game tried to inject narrative sequences. All I got was there was some sort of invasion, and there are people/animal hybrids. I figure that's the norm in this universe rather than the exception.
Final Thoughts
Sine Mora successfully revives a fallen genre with enough force that it feels right at home in the modern day, while still having the option to really challenge genre super fans. While the narrative is super easy to ignore, it will be hard to ignore the fun you'll be having, even in trial and error with the game's spectacle of boss battles. If you love SHMUPS, and long for a fresh, modern take, Sine Mora is definitely for you. If you are apprehensive to try the genre because of proclaimed difficulty, then Sine Mora is a great place to start.