As a gamer, this is the third Tales game I've played, the first two being Tales of Vesperia and Tales of the Abyss. I only recently came across the series, and have since fallen in love with it. For those of you not familiar with the Tales series, it is an RPG style game developed by Namco Tales Studio.  There are a total of 13 main Tales titles, but only a few of them have reached Western shores. Like the Final Fantasy series, each game has a separate story, so you can start playing any game in the series without having to worry about the other games.  Tales of Graces F is a remake of the original Tales of Graces released on the Wii in 2009. The "F" in the title stands for "future," meaning that there is much more added content near the end of the game, giving  a longer playthrough and gives answers to questions that arose in the original game.
-Story-
The main story is split into two parts; childhood and adulthood. In both, the story follows Asbel Lant, the eldest son of a baron, and heir to lordship over the region of Lhant. Asbel is accompanied by his brother Hubert, his childhood friend Cheria, and a mysterious young girl named Sophie. After he vows to take care of Sophie, who has been struck with amnesia, the town of Lant is visited by none other than the crown prince himself, who just so happens to be Asbel's age. After a few events, Asbel, Sophie, and Prince Richard all make a pact of friendship. Soon after, a tragic event occurs, and the 5 friends are forced to go their separate ways. Asbel leaves Lant to join the Knight Academy.
Seven years later, 18 year old Asbel has risen up the ranks and is almost a full-fledged Knight. After his first field mission, terrible news of his homeland reaches his ears, and he decides to return to Lant. His homecoming isn't being celebrated, however, as the town is being attacked by a neighboring region. Without spoiling anything, the town is saved, but Asbel is forced to leave. He makes his way to the capital city, and upon arriving learns that his old friend Prince Richard is in serious trouble, as there is a coup to usurp his throne. This is where the real story begins.
-Gameplay-
If you've never played a Tales game before, you'll find that the overall gameplay is definitely unique, and the play of it all is fantastic. The focus for the games is on the story and on the battle system, and the developers do an excellent job on both. At first, the battle style may seem like something you've seen before. You roam the world map, and as you do so monsters can be spotted around the area. Bumping into one of these monsters will initiate a battle. Here is where battles become fresh, because it's not like the usual sit and wait RPG like a Final Fantasy fan would be used to. Instead, you control one of the maximum of 4 party members, and then it becomes like a free-roam battle system, where you can hack and slash and perform combos at your leisure.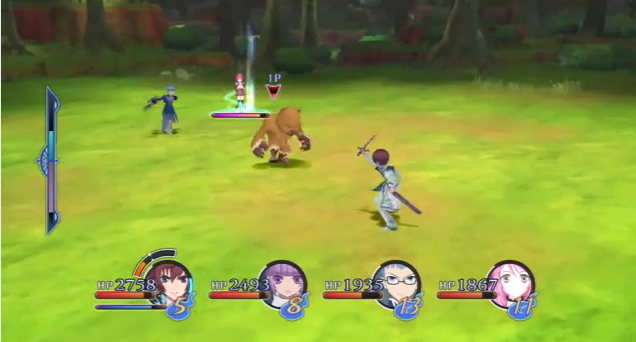 Also of note is that the game has a multiplayer feature. Up to 4 players can play at a time, depending on how many characters are in the party at that part of the story. This feature can only be used in battles, however, as the first played will be controlling what happens outside of battles.
Another great feature Tales of Graces F provides is an awesome array of English voice acting. Most everything in Graces F is voiced, from the cut-scenes to the battle dialogue, all the way to the small snippits of dialogue activated by travelling the world map. What I mean by here is that as you play, certain things will spark a conversation, which can be seen by pressing the –select- button. These certain things can range from landmarks and small events to plants and food. The conversations had here are usually completely random, but with the more you watch, the more you get a grasp for each character's personality and the relationships between them all. In the end, it's a great addition to the game.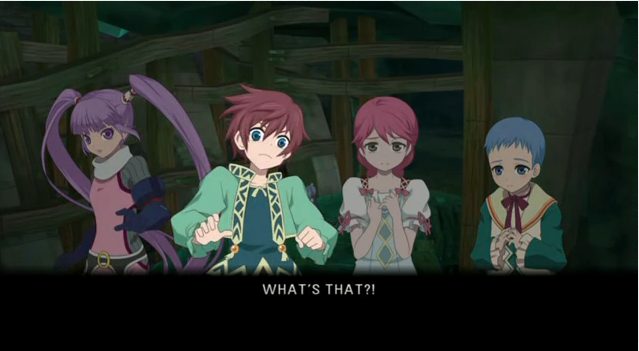 But not everything is all sugar and rainbows in Tales of Graces F. For one, there are several parts during the game where you have no idea what you're supposed to be doing. The game tries to fix this problem by giving you a short goal reminder whenever you press L1 on the map, but in the end it doesn't help too much.  A main reason for this is the lack of a minimap in towns and other non-world map areas. Because of this, you'll have to explore large cities, blindly searching for wherever it is you are supposed to go. While it may not sound too bad as I say it, it was something that was really nerve-racking as I was playing for the first time.
-Final Thoughts-
I really enjoyed my time with Tales of Graces F. With the story and unique battle system, I was having fun at every twist and turn. The game takes quite a while to beat, and in the end I would consider it a must-play on the PS3. Despite the few quirks the game has, it's a great buy, and well worth it to add it to your collection.  Like most Tales games, Graces F has a great variety of characters, and they all have their reasons for being remembered long after you've finished the game.