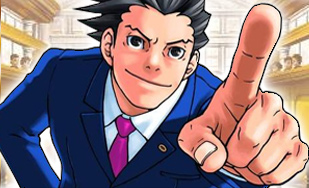 It was already known that Phoenix Wright was available on your iOS device. The goofy, yet entrancing court room drama fit in perfectly on the touch screens, which often function better for the game than the original platform, the DS. In more recent news, it looks like an HD collection of the Ace Attorney games is happening, and will include all 3 games in the series.
The app will be titled Phoenix Wright: Ace Attorney Trilogy HD, and will give you the option to buy each game from it's built in hub. It will also include the first two chapters of Ace Attorney for free.
Capcom commented:
Phoenix Wright: Ace Attorney Trilogy HD will also come with the "Everyone Object" mode (at no additional cost) to help players communicate their displeasure of everyday situations with the help of popular Ace Attorney characters and sayings. With a simple touch of a button, the phrases, "Objection!", "Hold it!", and "Take that!" can be emailed to friends or tweeted along with an animated image.
There are no word on whether Apollo Justice will be included, or a release date for the collection.